Punta San Vigilio
Punta San Vigilio is probably the most enchanting and renowned spot of Lake Garda. It extends itself in clear waters, drawing a pointy shape that gives it its name from a saint monk that lived before the year 1000.
This place was known, loved, and inhabited since roman times. It can be accessed with a path surrounded by century old cypresses and olive trees that are typical of the area. At the end of the path is a wonderful villa from the 1500's built following a project of Michele Sanmicheli's.
All around this place are wonderful gardens, a beautiful park, and lemon and orange farms that are favoured by the mild climate.
For centuries Punta San Vigilio has housed illustrious guests like Tsar Alexander II of Russia, Winston Churchill, and Laurence Olivier, all who remained fascinated by this oasis of peace and romance.
The park is made out of a big olive farm and gives the chance to access the lake for a refreshing swim in its crystal clear waters.
Behind Punta San Vigilio is a rocky spur covered in lush vegetation that introduces paths for walks. Nearby are also cave incisions that date back to the Stone Age.
There is also a small church dedicated to San Vigilio. If you walk through a stone path you'll reach a typical marina in the shape of a horse shoe, where you'll find the Bar Taverna and have the chance to stop for a delicious lunch, dinner, or other meals in its unique and surreal frame.
On the waterfront of this small dock is Locanda San Vigilio, that has welcomed guests since the 1500's with the chance to rent four rooms and three suites.
Nearby is the marvellous Park Baia delle Sirene (Mermaid Bay), renowned for the colour and quality of its water.
Tour and recommended itineraries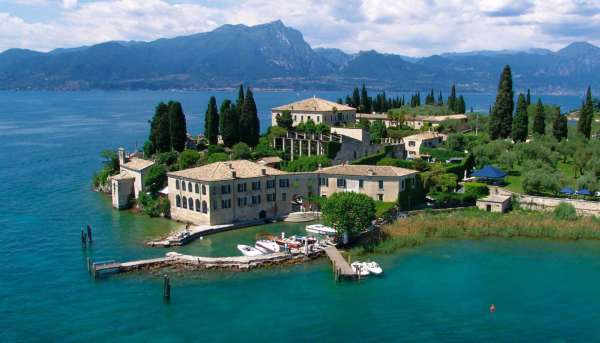 3-4 h on request
After reaching the fascinating Garda Island, we will cross the lake to East and reach the beautiful Punta San Vigilio.
3-4 h on request
We will sail in direction Gardone Riviera and Fasano, and then continue to north along the west side of the lake.
5-6 h on request
We will sail from Salò and will brush all the main beauties of the lower lake.